The Importance of 24-Hour Home Care After a Stroke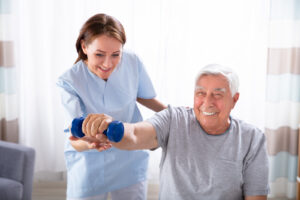 National Physical Therapy Month occurs each October in order to raise awareness of the benefits physical therapy provides. One area where physical therapy is important is following a stroke. Your dad's going to spend a lot of time with his physical therapist, but that's not the only care he'll need.
After his stroke, your dad's care needs will be significant. The severity of the stroke dictates the care he'll need. Even a minor stroke is going to require him to have care throughout the day and night. Here's what you need to consider.
People Need to Cook and Clean for Him
While your dad recovers, he needs others to clean his home, do the laundry, and cook his meals. He won't be able to prepare snacks on his own. Someone needs to do it.
You can help out, but if you work full-time, you're not home all day. You need to sleep at night. Instead, have caregivers with him 24/7 to help him out. You're able to stop by and spend time with him without having to worry about what you should be doing.
He May Struggle to Communicate
If your dad's speech was affected, he's going to have a hard time speaking. Speech therapists will work with him to help rebuild his speaking skills. But, it's important that your family realizes your dad's speech may never return to normal. You'll need to find other ways to communicate with him.
Mobility Is Affected
After a stroke, your dad may not be able to walk around. He may need the support of a walker, but he might require a wheelchair. His mobility may come back after working with physical therapists for weeks or months. He may never fully regain his mobility.
With 24-hour home care services, there's always an aide to help your dad transfer to and from his wheelchair. They can help him with showering, toileting, and when getting in and out of bed.
Transportation Is Essential
Try to arrange to have physical therapists come to your dad's home. When that's not possible, someone needs to help him get into the car, buckle up, and get to his physical therapy appointments on time. He may have multiple appointments each week.
Even if you qualify for FMLA, it usually only lasts for 12 weeks. Your dad may need months or even years of therapy. Make sure you have arranged transportation services from a home care agency to ensure he gets to his appointments on time.
Schedule 24-Home Care ASAP
As soon as you can, talk to your dad's medical team about his recovery plan. He may be spending a few weeks in a skilled nursing facility. When he comes home, have 24-hour home care aides ready to help your dad with the long-term care he's going to need. Call to get started.
  If you or an aging loved one are considering 24-Hour Home Care in Hazlet, NJ, please contact the caring staff at Lares Home Care 888-492-3538 or 732-566-1112.

Latest posts by Roy Kleinert
(see all)