Talk to Your Dad About His Care Needs During Blindness Awareness Month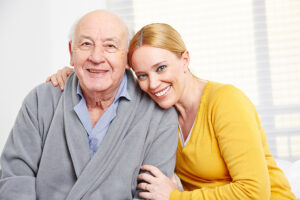 Almost 3 million older adults suffer from severe vision loss. Two diseases that can lead to blindness include diabetic retinopathy (currently 2.5 million) and macular degeneration (9.1 million). Diagnosed early, measures can be taken to lower the risk of vision loss.
Not every older adult is good about keeping up with yearly eye exams. The cost of eye care and glasses can be prohibitive. Blindness Awareness Month takes place every October and aims to get families talking about vision loss. Have you had a conversation with your dad?
His Safety Has to Come First
Moving around the home is challenging when you can't see. He has to go by feel, but obstacles become dangerous. If he has pets, a cat could get underfoot and trip him. His dog may be sleeping in front of a doorway and cause him to fall.
If his vision has diminished, those pets may need to be confined to certain rooms. Plus, it's time to address having personal care aides available to help him get to the bathroom or his bedroom without falling.
Another area where falls are more likely to happen is in the shower. Your dad's bathroom has a bathtub/shower combination. Stepping over the side of that tub is essential to prevent a fall, but he can't see how high to step. Caregivers can tell him.
Personal Care Needs Can't Go Ignored
Your dad may not be able to shower on his own. He can't see the shampoo bottles or soap. A personal care aide can help him find the right products and lather and rinse his hair if he struggles to do that on his own.
When he's showered, his caregiver can help him dry off, apply skin cream, trim his nails, and complete grooming tasks like shaving and combing his hair. If he needs help cleaning up after using the toilet, his personal care aide is right there.
Oral care is another area where personal care at home is essential when your dad is blind. He can't see his teeth to properly brush or floss, but a caregiver can. His caregiver can help him take care of his teeth and alert you if something seems wrong.
If his dentures don't seem to fit properly and are creating sores, you'll know and can schedule a dental appointment. Or, the caregiver can set that up for your dad.
Personal care at home is a helpful service for ensuring your dad's grooming and hygiene needs are met. He may not be able to see anymore, but that doesn't mean he has to go without proper oral care, hygiene, and grooming. Call a personal care at home expert to learn more about services.
If you or an aging loved one are considering Personal Care at Home in Colts Neck, NJ, please contact the caring staff at Lares Home Care 888-492-3538 or 732-566-1112.
Sources:
https://www.cdc.gov/visionhealth/pdf/vision_brief.pdf

Latest posts by Roy Kleinert
(see all)