Six Great Reasons for Spending Time Outside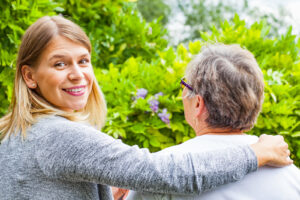 How much time do your parents spend outside? If your mom and dad rarely leave the house, it's time to make some changes. By going outdoors, they help improve their health in several significant ways. 
 
Aids Your Overall Health 
 
When you spend time outside, the activity helps you lose weight and tone muscle. That can lower the risk of a fall and reduces the chances of many chronic health conditions ranging from diabetes to high cholesterol. It can also help you get a better night's sleep. 
 
Battles Problems Caused by Excessive Exposure to Technology 
 
Computer Vision Syndrome is a condition that affects some children and adults who spend a lot of time staring at a computer, phone, or tablet. It can cause blurry vision and headaches. Have your parents put down their tablet or phone or walk away from the computer and go outside to help their eyes. 
 
Gives You a Boost of Vitamin D 
 
Vitamin D is an essential component of bone health. Many people don't get enough of it, and the body doesn't produce it. Your parents can get a daily dose of vitamin D by heading outside and exposing as much skin as they can to the sun's rays for 10 to 15 minutes. 
 
Helps With Seasonal Blues 
 
Seasonal blues impact many adults. As the days get shorter and darkness falls before dinner, it messes up your circadian rhythm. If your mom or dad finds that they do feel down during certain seasons, time spent outside is known to help ease mild depression and blues. 
 
All it takes is some time spent in the fresh air and sun. If it's cold out, they can bundle up. If it's hot, limit their time outside and make sure they hydrate often. 
 
Lowers Your Blood Pressure 
 
When you go outside, you're often actively exercising in some way. Your parents may work in their garden or go for a walk. The more active they are, the more it helps maintain healthy blood pressure. 
 
Provides Fresh Air 
 
Finally, time spent outside helps your parents take in some fresh air. As long as the air quality index is low, they'll clear their lungs and get away from high levels of indoor allergens like dust, pet dander, and mildew. 
 
If you're not nearby to encourage them, how do you get your parents to leave the house? Do they refuse to go outside without someone with them? Call a home care agency. 
 
They can have the support of a caregiver on their daily treks outside to their gardens or when taking walks. Talk to a home care specialist to learn more. 
 If you or an aging loved one are considering Home Care in Hazlet,  NJ, please contact the caring staff at Lares Home Care 888-492-3538 or 732-566-1112. 

Latest posts by Roy Kleinert
(see all)