Quick Snacks for a Diabetic Parent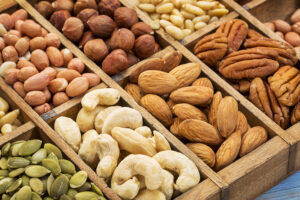 Around ten percent of the population has diabetes. Not everyone realizes it. It's estimated that 7.3 adults have diabetes but don't know it. Unless a blood test catches diabetes or symptoms of the disease appear, your mom may have no idea she has diabetes. 
 
Does your mom even know the symptoms of diabetes? Do you? Some of the most common symptoms are excessive thirst, frequent urination, unexplained weight loss, excessive hunger, and slow-healing cuts and sores. If she's experiencing any of these, she needs to see her doctor. 
 
One thing that will change is her diet. She needs to avoid sugary foods, foods high in saturated fat, and starchy, high-carb items. This can make it hard to find suitable snacks. Here are some of the best snacks for a person with diabetes. 
 
Hard-Boiled Eggs 
 
At the start of the week, boil some eggs. Place the eggs in a pan, add water, and bring to a boil. Once the water's been boiling for a minute, turn off the heat, put the lid on the pan, and let them sit in hot water for 15 minutes. Cool and peel the eggs and store them in the refrigerator for quick snacks at any time of day. 
 
Hummus 
 
Serve a portion of hummus with carrot, celery, cucumber, and red pepper slices. You can make your own hummus using canned low-sodium chickpeas, lemon juice, tahini, and black pepper. 
 
Raw Almonds 
 
Raw almonds are a good source of fiber. They're also a handy snack as the crunch requires you to chew for a while, which helps appease your appetite. 
 
Sliced Apples 
 
Wash and slice an apple. Serve it with natural almond or peanut butter. Make sure the nut butter doesn't have added sugar, honey, or maple syrup. 
 
Yogurt and Berry Smoothie 
 
Place a cup of frozen blueberries in the blender and add three-quarters of a cup of low-fat kefir. Blend it until smooth. Stir in a tablespoon of flaxseed powder to add a boost of fiber and omega-3 fatty acids. 
 
Support your mom by making sure she has help with meal planning, preparation, and shopping. If she can't see the fine print on labels, it may be hard to see when sugar is added to the item she wants to buy. She needs to pay close attention to bread, dressings, and sauces. Home care aides can help her with these tasks. 
 
Home care can also help out by reminding her to check her blood sugar levels before or after a meal. Caregivers can schedule her check-ups with her doctor and eye doctor. They can help her pick up prescription medications or order refills. Call a home care specialist to discuss these services. 
If you or an aging loved one are considering Home Care in Middletown, NJ, please contact the caring staff at Lares Home Care 888-492-3538 or 732-566-1112. 
Sources:
https://www.cdc.gov/diabetes/data/statistics-report/index.html
Latest posts by Roy Kleinert
(see all)