How Does In-Home Care Help Your Mom?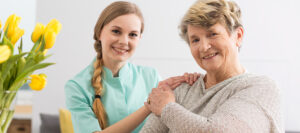 As she gets older, your mom's health is changing. She's facing some of the most common health issues and a few surprises. Your mom has high blood pressure, but she's also learned she has anemia. Her doctor suspects it could be her dietary habits affecting her iron levels.
Your mom fell and learned her bone density is thinner than it should be. She needs to start making changes to protect herself. Have you considered how in-home care aides can help with all of that?
Her Home Is Clean and Organized
Home care aides can clean your mom's home. Your mom may like to do the laundry, but she can't carry the basket downstairs by herself. Her caregiver can help her. She may have a hard time with the vacuum's weight and bulk, but she has a caregiver available to do the vacuuming for her.
Caregivers can do the dishes after a meal, clean up the kitchen by wiping up counters and putting clean dishes away, and set the dishwasher to run the load of dishes. They can dust, sweep, and tidy up.
If your mom finds it hard to change her sheets, have a caregiver do it for her. Her caregiver can change her sheets, wash the dirty ones, fold them, and put them away when they're clean and dry. Hanging clean towels and washing the used ones is another helpful service.
She'll Never Forget to Take Her Medications
Your mom has to take iron pills every day. She often forgets to take them as it's a new routine. With an in-home care aide, she'll have someone in her home to remind her to take her pills. She won't forget her iron pills, blood pressure medications, or recommended supplements.
She Has Someone to Drive Her to Appointments or on Trips Out of the Home
Another issue as you get older is your vision. Your mom's eyesight has worsened due to cataracts, glaucoma, or another eye disease. Her doctor says she needs to stop driving. Her home care aide can escort her on shopping trips, to appointments, or when running errands.
Plus, she has a caregiver available if she wants to go out for the day. Your mom isn't stuck at home. She can go to the museum, go to a park, or enjoy lunch out at her favorite cafe. If she has appointments, she never has to be alone.
Hire In-Home Care Aides
Does this sound helpful? If your mom wants to age at home but struggles to be on her own every day, in-home care is a fantastic option. She'll have caregivers with her to help with daily chores like meal preparation, housekeeping, and transportation.
Learn more about in-home care by calling an agency. An advisor will go over the available services, the best schedules for your mom's care needs, and prices. Make a call to get started.
 If you or an aging loved one are considering In-Home Care in Marlboro Township, NJ, please contact the caring staff at Lares Home Care 888-492-3538 or 732-566-1112.

Latest posts by Roy Kleinert
(see all)