How Do Your Parents Get Enough Exercise as Cold Weather Arrives?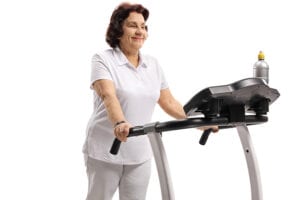 Winter brings rain to some, ice and snow to others, and frigid wind chills to many more. If your parents are in a region where snow, ice, and bitter cold are common, getting outside to exercise is challenging. How do they get their 30 minutes of activity each day when winter arrives? 
 
Purchase a Treadmill 
 
Instead of going outside, your parents could walk for 30 minutes on a treadmill. If they find it boring, set up a TV or tablet nearby that's playing a walking tour of a city, attraction, or appealing setting. It helps keep your parents engaged and entertained. 
 
Some equipment has built-in video players. For a monthly fee, you subscribe to live sessions with trainers. If your parents can afford it, that may be a good way to motivate them to work out every day. 
 
If a treadmill isn't appealing, an exercise bike or elliptical are other options. Some have a built-in tablet or laptop holder that makes it easy to view a video while exercising. 
 
Try Something New 
 
If exercise equipment doesn't appeal to your parents, put on a video. The internet is packed with videos for a variety of exercises. They could work out to a Yoga video on day and Pilates the next. Tai Chi, belly dancing, Zumba, and ballroom dancing are other ideas. 
 
Mix up the exercises so that your parents are trying new things. When they find a program they love, take note and make that the one that they work out to regularly. You may find they love Yoga three days a week and fill in the rest of the week with Zumba and dancing. If it keeps them engaged, it's worth it. 
 
Go Outside Anyway 
 
Cold weather doesn't mean your parents must stay inside. They just need to dress for the weather. Layers under a warm, water-resistant jacket are important. A pair of gloves, a hat, and a scarf protect the skin from the cold air. 
 
To walk safely, get a pair of ice treads that strap onto boots. They'll provide traction on ice and packed snow. 
 
Keep your parents' exercise goals on track with the help of senior care aides. Your parents may not be comfortable using equipment like a treadmill or elliptical on their own, but caregivers can be there for support. 
 
Let caregivers stop by and help your parents with their daily routine. They'll stay in their home and living independently, but they're supported during harder tasks. Call a senior care agency and schedule services. 
 If you or an aging loved one are considering Senior Care in Hazlet, NJ, please contact the caring staff at Lares Home Care 888-492-3538 or 732-566-1112.
Latest posts by Roy Kleinert
(see all)