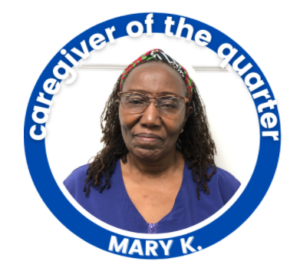 Our Caregiver of the Quarter Program recognizes the outstanding qualities and contributions of a caregiver working towards the goals and overall mission of Lares Home Care.
This quarter we congratulate Yakubu A. and Mary K., who have gone above and beyond in their efforts to provide care for our clients.
Lares Home Care Congratulates
Yakubu:
Yakubu has been an incredible addition to the Lares family since the summer of 2021. He can be described as patient, thoughtful, and compassionate. Yakubu is very strong in his communication skills, and always makes sure to keep us informed of his client's conditions.
Yakubu creates an environment of safety and comfortability. Thank you for your passion and dedication, Yakubu!
Mary:
Mary has been diligently serving clients at Lares Home Care since 2021. She always goes above and beyond in her efforts to serve clients. Mary has many amazing qualities, including her patience, communication skills, and ability to adapt to change quickly. Mary is a very strong advocate for her clients and will always do what is needed without hesitation. Thank you, Mary, for being an asset to our team.

Latest posts by Roy Kleinert
(see all)