4 DIY Home Hacks To Make A Home Safer For Seniors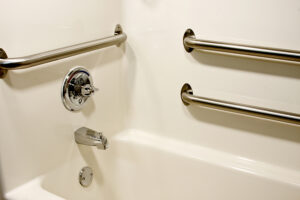 Falls at home can be deadly for seniors. In fact, the CDC estimates that if the current trends continue there could be as many as 7 senior deaths from falls every single hour by the year 3030. Falls at home can cause hip fractures, pelvic fractures, and Traumatic Brain Injuries in seniors. Fall risk is a very real hazard for seniors that are aging at home. But there are some things that you can do yourself to help lower the risk of your senior loved one falling at home. Since most of the time it's not possible to have 24-hour home care for your loved one making their home as safe as you can is important. According to home care providers and senior safety experts these easy DIY hacks will dramatically improve the safety of your senior loved one's home: 
Get Rid Of Rugs 
Area rugs are a big safety hazard for seniors. Seniors often trip on area rugs or slip on them, even if they are secured with run pads or rug tape. If your senior parents are aging in place in their home you should get rid of all of the area rugs and throw rugs. If you and your parents want the comfort of carpet install wall to wall carpet instead of using area rugs or throw rugs. Instead of using small rugs in front of the sink or the bathtub use padded mats that have non slip grip so that they won't move or slide.
Install Treads On Stairs 
Stairs can be very dangerous for seniors. If your senior parent is having trouble using the stairs the best thing to do would be to create a bedroom on the first floor for them. But if that's not possible and it's also not possible to have 24-hour home care providers with your senior loved ones to help them get safely up and down the stairs you should install stair treads. Remove any carpet or rugs and install non-slip treads on each individual stair. You should install them on any outdoor stairs as well.
Raise or Lower The Toilet Seat 
The bathroom can be the most dangerous room in the home seniors. Wet floors made from traditionally slick materials can spell disaster for seniors. As your senior loved one gets older it can be helpful to install either a higher or lower toilet depending on what they are more comfortable with to make it even easier for them to get themselves onto and off of the toilet safely.
Install Grab Bars In The Bathroom And Safety Treads 
More DIY hacks that will help improve bathroom safety are grab bars and safety treads on the floor and in the shower or in the tub. Safety treads will help seniors stay on their feet even if there is water splashed on the floor or if the tub is slippery from soap. Grab bars should be placed by the tub or the shower and by the toilet too so that anywhere your senior parent is in the bathroom there is a grab bar for them to use if they need one to steady themselves.  
If you or an aging loved one are considering 24 Hour Home Care in Colts Neck,  NJ, please contact the caring staff at Lares Home Care 888-492-3538 or 732-566-1112.
Source:
https://www.cdc.gov/falls/index.html
https://www.aarp.org/caregiving/home-care/info-2019/safety-tips.html

Latest posts by Roy Kleinert
(see all)