What Should You Do Before Your Dad Comes Home From a Rehabilitation Center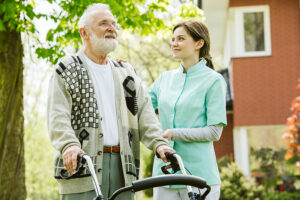 After your dad's fall, he was moved into an inpatient rehabilitation center for the therapy he needed following his hip replacement surgery. He's about to come home, and you want to make sure his home is ready for him. What are the things you need to focus on?
Make His Home Safer
Heighten the safety in your dad's home but installing grab bars in his bathroom. He may also need non-slip bath mats inside and outside of the bathtub or shower. A shower seat helps him avoid a fall if he tires easily while standing up.
Make sure the railings on stairs are sturdy and extend all the way from the top and bottom landings. If he has loose rugs on hardwood floors, remove them.
Go through his house and make sure the lighting is bright. It needs to illuminate all areas he spends time in. You don't want any shadows creating places where he may fall down.
Arrange his furniture so that he does not have to walk around things to get from one area to the next. He needs direct paths from his favorite chair or sofa to the kitchen or bathroom. He needs to get from his bed to the bathroom without having to walk around an object.
When considering furniture placement, you should also decide if he would benefit from nightlights. Nightlights are essential if he has to leave his bedroom and walk down a hall or downstairs to use the bathroom.
Stock His Kitchen With Healthy Food
Your dad's hip fracture may have brought awareness to a lack of calcium in his diet. Make sure his kitchen cabinets, refrigerator, and freezer are stocked with foods that improve bone strength. Yogurt, cheese, and milk are important to have on hand.
Look for low-sugar fortified cereals, whole-grain bread, and fruit juices. Make sure your dad has a lot of fresh fruits and vegetables available for meals. Finally, keep plenty of seafood stocked in his home.
Organize His Appointment Schedule
Your dad is going to need others to drive him to appointments for now. Track his appointments on a platform that all family members can access. If there are days that no one is free to drive him to and from the medical office, make sure home care assistance services like transportation are scheduled.
Arrange for Home Care Aides to Help Out
Arrange home care assistance services to help your dad. He can embrace his independence without having to risk his safety. Call a home care assistance specialist to get started.
  If you or an aging loved one are considering Home Care Assistance in Hazlet, NJ, please contact the caring staff at Lares Home Care 888-492-3538 or 732-566-1112. 

Latest posts by Roy Kleinert
(see all)