How to Choose the Right Activity for Your Senior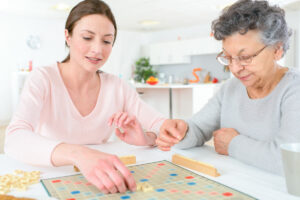 Staying active and productive is an essential part of anyone's life, but it is especially important in your senior's life. Without stimulating interactions or activities they can look forward to, your senior can suffer from a number of ailments including depression, higher chances of getting cancer and even premature death. Not only can the right activity in your senior's elder care keep them happy and engaged, it can keep them healthy.
Choosing the right activity for your senior is important to make sure they are fully engaged and stimulated, and it will depend on your individual senior. While some seniors enjoy physical activities like swimming, others may not be able to — or not want to — participate in those activities and would prefer an activity like chess. It is essential the elder caregivers understand your senior to determine what kind of activity is best for them.
Another crucial element of choosing the right activity for your senior and ensuring they are adequately entertained is mixing activities. Ideally, the elder caregivers will pick activities that will engage your senior physically, socially and mentally.
Physical Activities
Remaining active is necessary for your senior to help with mood, boredom and even illnesses. Some medical conditions such as blood clots and pulmonary embolisms are more likely to happen in seniors that are immobile, so any amount of physical activity is crucial for your senior. Going for a simple walk is an easy activity that can help to get your senior active and keep their day interesting.
More physically demanding activities for more mobile seniors can be beneficial, especially if they liked to do these activities before starting elder care. Swimming is a popular activity that is low-impact and easy on — and even beneficial for — sore joints.
Social Activities
It's important to ensure your senior stays social and interacts with members of their community. Many activities can provide an environment for this, such as going to a class with other seniors, whether that be something like painting or even a dance class. Board games are popular with many seniors because it does not require much physical effort but is still a social activity and fun way to spend their time.
Mentally Stimulating Activities
Keeping your senior's mind active is an important part of elder care. Taking your senior to a trivia night, or even hosting one in the home, is a fun way to keep those wits sharp. Puzzles, crosswords and reading also engage the mind and are a great option if your senior enjoys some quiet time.
Conclusion
There are many activities that your senior can still do, and plenty of new ones for them to discover. Understanding your senior and what they enjoy is crucial to picking an activity that they will enjoy and that will engage them.
Elder caregivers are happy to get to know your senior and choose the perfect activities for them to do. Give us a call today and see if elder care is the right option for you and your family!
 If you or an aging loved one are considering Elder Care in Colts Neck, NJ, please contact the caring staff at Lares Home Care 888-492-3538 or 732-566-1112. 
Sources:
https://health.usnews.com/best-nursing-homes/slideshows/beyond-bingo-innovative-activities-at-todays-nursing-homes

Latest posts by Roy Kleinert
(see all)