Six Daily Habits That Benefit You and Your Mom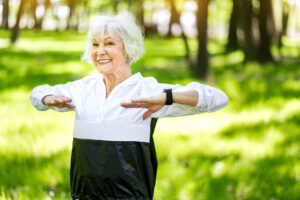 As a family caregiver, you provide a lot of the help your mom needs on a daily basis. Have you ever looked at the six daily habits that will benefit both you and your mom as she gets older and relies on you more and more?
Eat Healthy Meals
A healthy diet is a staple to a person's well-being. Diets that are rich in antioxidants, fiber, protein, calcium, and many other minerals are critical to your physical and mental health. If your mom's diet is mostly frozen dinners, takeout meals, canned soups, or processed foods, she's not getting the optimal nutrition. It's time to change all of that.
Many doctors recommend following the Mediterranean diet as it's healthy and relatively easy to follow. You aim for lots of fruits and vegetables, seafood, grains, and olive oil each day and restrict red meat, butter, and baked goods.
Get Enough Exercise
A general goal for daily exercise is half an hour. Exercise should increase the pulse as much as your mom's doctor says is safe. A brisk walk, swimming laps in the pool, or bike ride are great ways to get enough exercise.
Talk to Others
Take time to talk to others every day. A walk around the block can help your mom socialize with her neighbors. She can volunteer at local non-profits and have the chance to talk to people in her community.
Drink Plenty of Water
Every day, your mom needs to drink plenty of water. A general goal for women is to get about two liters of water. Some of the water and fluids she gets are from the foods she eats, but she needs to drink water, too.
Alcoholic beverages are dehydrating. If she's counting a glass of wine the same as a glass of water, she's making a mistake. Make sure she stays hydrated. You should do the same. Make sure you're taking care of your organs and skin by drinking plenty of water each day.
Aim For Eight Hours of Sleep
If your mom is napping for hours every afternoon, she may have difficulty sleeping at night. Ideally, she needs eight hours of sleep. An afternoon nap is okay, but it shouldn't be for hours. A quick recharge is ideal.
To avoid long naps, your mom wants to stay active. She can spend afternoons working in her garden, taking walks, or cleaning her home. Being up and active is important. Her companion care aide can make sure she's active throughout the afternoon so that her body is tired and ready for a full night's sleep.
Arrange Respite Care for Your Mom
When you get enough sleep, you're practicing positive self-care. Pair all of these habits with the assistance of companion care at home.
Respite care is important for your well-being. Instead of struggling to provide all of the care your mom needs, hire a companion care aide to take over while you take a break. Call to learn more.
 If you or an aging loved one are considering Companion Care at Home in Marlboro Township, NJ, please contact the caring staff at Lares Home Care 888-492-3538 or 732-566-1112.

Latest posts by Roy Kleinert
(see all)