Should You Wash Your Mom's Hair Every Day?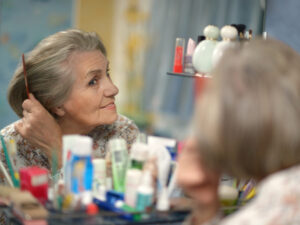 Since your mom's stroke, she's needed help with routine hygiene and grooming tasks. She can't wash her hair on her own. Brushing and flossing her teeth, showering, and dressing are all complicated for her.
One of the hurdles you face is washing her hair. She's scared you'll get soap in her eyes, so you do the best that you can, but she stresses out. Is it necessary to wash her hair every day?
How Much Is Too Much?
There's generally no right or wrong answer, as it depends on your hair type. If your mom's hair is already dry and thinning, avoid washing it daily. You could wash her hair every three days and be fine.
If she has thick, curly hair, she could wash it every other day or so. If she uses a lot of hair products or color treatments, both of which are drying, don't wash her hair more than two or three days a week.
The only time she would need to wash her hair daily is if she sweats profusely, which is unlikely. Generally, washing every two or three days is best. If it bothers her and she wants it washed daily, wet her hair, apply a co-wash product, and rinse it out. That will condition her hair without using soaps that strip her scalp of necessary oils.
Can You Use Dry Shampoos?
Your mom doesn't like her hair unless it smells fresh. How about using a dry shampoo in between shampooing? Tread carefully with these products. In the past year, several have been recalled due to cancer-causing ingredients.
If you want to use a dry shampoo for in-between shampooing days, look for one that is a powder you apply using your hands or a brush. Avoid powders that are spray-on aerosols.
Make Shampooing Days Less Stressful
Try to ease her stress on shampooing days. Invest in a shampoo cap that fits snugly to the head. It prevents water from running down the forehead and into the eyes. They're designed for children and toddlers, but they'll work.
You could also look for a hair rinsing funnel at a hair salon supply chain or online. They're designed for adults with longer hair. They protect the back and go right down to the sink, which is even handier.
Have a Caregiver Help With Personal Care
Personal care at home aides can help you keep up with your mom's personal care needs. Sometimes, it's easier to have someone else helping with grooming and hygiene tasks. As they can be more intimate tasks, your mom may not be comfortable having you help out.
With a personal care at home aide, your mom's care needs are addressed without the embarrassment she feels having you help out. Make arrangements and learn more about pricing by talking to an advisor.
 If you or an aging loved one are considering Personal Care at Home in Manalapan Township, NJ, please contact the caring staff at Lares Home Care 888-492-3538 or 732-566-1112.

Latest posts by Roy Kleinert
(see all)