How Seniors Are Living Independently for Longer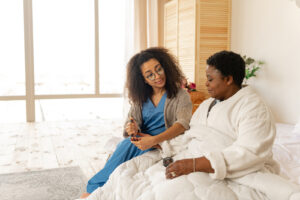 As the number of elderly citizens in the United States grows, more are turning to home care to help them live independently, a trend known as aging in place. There are tons of modern technologies that help families stay in touch with their senior loved ones and also help them visit the doctor virtually. This technology makes aging in place more possible than ever before. It is no longer something to fear but something to embrace as a senior.
The aging in place movement encourages senior self-sufficiency. When your senior starts entering their final years, you will want to sit down and examine their lifestyle and what options may be best for them. The good news is that no matter what they choose, home care services have never been more readily available. 
Independence naturally decreases as a person ages. They may need several home care options to remain safe and living on their own as they age. The good news is there are tons of options to choose from. You will be able to acquire a team of assistance to ensure your elderly loved one remains safe. On top of that, you can expect to use these things to help seniors live longer and safer.
Technology for Seniors
Not only can you video chat your senior every day with things like the grandpad or cell phone, but they have options for safety too. There are now buttons that will call for assistance when needed and call check-ins to make sure a senior is okay every day. There are scooters to help a senior get around, stairlifts to help them get up and down the stairs, and much more.
For seniors who are willing to give up their privacy, video monitoring enables individuals to keep a check on elderly family members over the internet, a service that is rapidly growing in popularity as families disperse geographically. There are now thousands of systems available dedicated to helping people live on their own for longer.
Home Design Options
Home renovations don't have to be super expensive. In fact, it can be as easy as changing the bathroom to have non-slip flooring pieces and railings. Or switching out door handles that are levers instead of knobs. Adjusting the space a senior calls home is one of the key aspects of creating a safe environment to age in.
One alternative is to construct a new house around your physical restrictions, which may be done as part of your early retirement preparation. This includes one-floor designs that make it simpler to walk about the house and chair lifts or elevators to supplement conventional staircases.
Grocery Delivery
Not all seniors can go out or drive, and not all have the help they need to do this every day. Luckily, a senior can now use services to get groceries delivered right to their doorstep. Better yet, there are pharmacies that will also deliver right to a person's home.
 If you or an aging loved one are considering Home Care in Hazlet, NJ, please contact the caring staff at Lares Home Care 888-492-3538 or 732-566-1112.

Latest posts by Roy Kleinert
(see all)