Learning About the Challenges a Person May Face as They Age Will Lead You to Consider Elder Care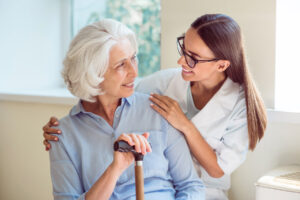 How often do we stop and think of what our elderly mother or father, a grandparent, or somebody else in our life who is getting up there in years is facing? Not often. Maybe only when we see the effects of time really take a toll on them.
Most of the rest of the time, we tend to see life through the lens of our own experiences. For somebody in their 40s, 50s, or 60s who hasn't had to grapple with significant health issues, injuries, or other limitations, life seems to throw at us challenges we can at least manage for the most part on our own. 
Yet, when a person advances in years, they will begin to face increased risks and challenges. Some of those challenges might include health issues, injuries, or simply balance related problems.
For example, a person in their mid-70s might be able to get out of bed just fine on their own and navigate up and down stairs, but toward the end of the day when their body is getting tired, they might face an increased risk of falling down and being injured.
An Elder care provider can make a difference. 
When it comes to elder care, an aide or support system makes a world of difference to people who are experiencing physical challenges and limitations. For example, if your elderly mother has difficulty getting around without a cane or walker, getting up and down the stairs to do laundry could be extremely complicated. 
It may even reach a point when she doesn't want to do the laundry anymore at all. But, if she had elder care support on a regular basis, perhaps for just a couple of days a week in the evenings or afternoons in the house, she might have more confidence. 
Having confidence is incredibly important for people of all ages, regardless of whether this is a senior or a young teenager. When a person lacks confidence, they tend to shy away from various tasks and challenges that could improve quality of life.
So, the more you learn about the challenges a person may face as they get older, the more you may realize the benefit in having professional, experienced support ready to stand by to help. Not only can this keep seniors safer, it can also boost their confidence and help them maintain a higher quality of life. 
If you or an aging loved one are considering elderly care in Old Bridge Township,  NJ, please contact the caring staff at Lares Home Care 888-492-3538 or 732-566-1112.
Latest posts by Roy Kleinert
(see all)