Did Your Dad Have a Stroke?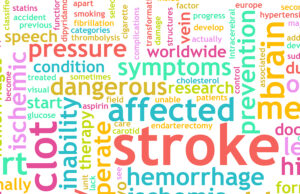 The American Heart Association estimates every 40 seconds someone in the U.S. has a stroke. About nine out of ten of these are ischemic strokes, meaning they're caused by a blockage of a blood vessel somewhere in the brain.
Your dad had an ischemic stroke, and he's in the hospital. He lives alone, and you're not sure what to do next. His medical team made one thing clear. He'll recover, but it's going to take time and a lot of care as he relearns motor skills.
What Happens Next?
Your dad's medical team will keep him in the hospital until he's swallowing on his own. Aspiration pneumonia is a risk when he can't swallow correctly. After that, they may recommend having him move to a rehabilitation wing or facility. Another option is to have him go home. If he's happier in his bed, it can help with his recovery.
He's going to need a lot of support though. He'll have therapists coming to his home to work on speech skills, mobility, and strength. He's going to need caregivers to help him get to the bathroom on time.
You'll probably be cooking his meals and cleaning his house. If he has appointments, he's going to need you to drive and help him in and out of the car. He'll need your help scheduling all of his appointments, getting his groceries, and picking up prescriptions.
He'll have medications to take every day. You need to keep on top of that, as some of those medications will be the best way to prevent another stroke. You need to make sure he doesn't need a refill and keep track of his daily doses.
He Needs Help With Personal Care, Too
The harder aspect of his care is having to help him with toileting, oral care, showers, shaving, and nail care. If you're not prepared to assist him with cleaning up after using a toilet, after he's eaten a meal, or if he has an accident due to incontinence, you need to make sure he has that support. Personal care is your answer.
Arrange Personal Care Services
Personal care is essential after a stroke. It's going to take time before your dad is able to take a shower on his own, shave his face, and brush and floss his teeth. He may need help with toileting, haircare, and nail care.
He's also not going to love having his adult children helping with his more intimate care needs. If it makes him feel more comfortable, you need to ensure that someone else is available to help out. Have personal care aides help with those tasks so that you can focus on spending quality time with him.
 If you or an aging loved one are considering Personal Care in Hazlet, NJ, please contact the caring staff at Lares Home Care 888-492-3538 or 732-566-1112.
Sources:
https://www.cdc.gov/stroke/facts.htm

Latest posts by Roy Kleinert
(see all)