4 Fun Summer Activities For Seniors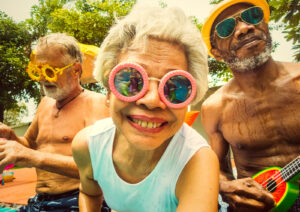 Now that the weather is warming up it's a fantastic time for seniors to start enjoying the sunshine and longer days of summer. But, seniors do need to be careful to make sure that they are not overdoing it when the weather gets hot. So seniors should always wear sunscreen and appropriate summer clothing. Home care is a great option for seniors and a care provider can make sure that seniors are wearing their sunscreen and drinking their water all the time. As long as seniors are properly dressed for the weather and staying hydrated they can enjoy some of these summer activities:
Concerts In The Park
Many cities and towns offer free events all summer long that include concerts in a local park or amphitheater and sometimes plays too. Seniors can go out and see local bands, national bands, symphonies, operas, and other fun musical activities all for free. Most of the time these events are held in the early evening so it's cool enough for seniors to go out and enjoy them. See if a few of the neighbors want to go and get out and have some summer fun.
Backyard Games With Family
Sometimes the most fun activities are the ones that are done with family. If your senior loved one has home care a care provider can set up games like Cornhole, Croquet, Bocci, or other summer backyard games that seniors and their family members or care provider can play together. Getting together in the summer sun to play isn't really about the game. It's more about the time that is spent together. So take some time to hang out with your senior loved one this summer.
Farmers Markets
Farmers markets can be a lot of fun, especially for seniors. There are always fun things to see and many vendors give samples and taste tests, which is a great way to make sure that your senior loved one is getting enough to eat. And buying fresh local vegetables, fruits, breads, and other items will also encourage your senior loved one to cook more healthy meals at home. Home care is a great help to seniors when it comes to cooking and cleaning up so you may want to get home care for your senior loved one to help them eat healthier. 
Art Festivals
Another fun thing for seniors to do in the summer is visit local outdoor art festivals and craft fairs. In most places there is a different type of art festival or craft fair every weekend in the summer. Many of these fairs and festivals are senior friendly and seniors can get around easily even if they have a walker or wheelchair or cane.  Seniors can get out and look at art, admire crafts, buy craft supplies, and connect with other seniors. Just make sure that your senior loved one takes regular breaks to sit down and have something cold to drink whenever they are out at an activity in the summer. That way they won't get overheated or dehydrated due to the heat.
 If you or an aging loved one are considering Home Care in Hazlet, NJ, please contact the caring staff at Lares Home Care 888-492-3538 or 732-566-1112.

Latest posts by Roy Kleinert
(see all)