How Family Caregivers Can Prep Healthy Meals For Seniors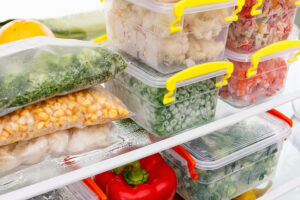 March is National Nutrition Month which means it's a fantastic time for senior family caregivers to think about how to prep healthy meals for their senior loved one. Making sure that your senior parent or parents get the nutrition they need is important, and so is making it easy for them to cook health meals each day. Meal prep can accomplish both of those things. All you need to do is prepare the components of several meals, precook them, and then your senior parents can just heat them up throughout the week. Here are some tips that will make it easier for you to prepare healthy meals for a senior loved one ahead of time:
Make A Variety Of Meals
If your senior loved one has a home care assistance provider that comes in a few days each week who can help your senior loved ones cook meals then you can prepare some meals that might require more effort to cook. The days that the home care assistance provider is there they can make sure that the meal is cooked correctly so when you're planning meals plan on bigger meals the days that your senior parents will have help. Put those meals in special containers and mark them with the day of the week so that the home care assistance provider will know to make that meal on that day.
Use The Same Ingredients But Vary The Seasoning
Not every meal for your senior loved ones needs to be a restaurant style meal. You can do a lot with a basic roasted chicken breast. Stick to the same basic ingredients like chicken, fish, and turkey and just prepare them in different ways with different seasonings. That way your senior loved ones are getting healthy meals that have enough variety to be interesting. You can also then buy in bulk and save money and time shopping.
Buy Your Senior Loved Ones Some Gadgets
It will be much easier for your senior loved ones to eat the meals you prepare if they have things like an air fryer or a slow cooker. Air fryers can make anything crisp and tasty, even pre-prepped meals that have been in the refrigerator for a few days. And slow cookers, instant pots, and other gadgets can be very useful when it comes to reheating meals safely. Look for appliances and gadgets that have an automatic shut off in case your senior loved one accidently leaves them on.
Don't Forget About Snacks
Snacks are part of a healthy diet, as long as they are healthy snacks. You can prep healthy snacks for seniors by peeling oranges in advance, cutting up fruit, or portioning fruit and yogurt into individual portions for easy snacking. Cottage cheese, fruit, cheese, and veggies like carrot sticks with hummus are all great healthy snacks that are easy to prepare ahead of time. Invest in some small snack size containers and you can make sure your senior loved ones have all the healthy snacks they could want. 
If you or an aging loved one are considering Home Care Services Marlboro Township, NJ, please contact the caring staff at Lares Home Care 888-492-3538 or 732-566-1112.

Latest posts by Roy Kleinert
(see all)